Scholars Program
The Scholars Program is designed for students who are interested in an interdisciplinary approach to their future. Through our Scholars Program, students are granted the opportunity to fully immerse themselves in a concentration of their choosing. Each concentration has been specifically tailored to provide an extensive and multifaceted approach to a student's chosen field. We hope to ensure that students not only prepare for their potential career, but that they are also learning the necessary skills for the increasingly complex world they are about to enter. Additionally, all of our Scholars are eligible to enter a quarterly essay competition that gives students the opportunity to win a prestigious $1,000 scholarship from Harvard Student Agencies.  
How Do I become a Scholar?
Each concentration (details below) has been specifically tailored to provide an expansive and interdisciplinary approach to a student's chosen field of study. After completing the required set of programs, the student can apply at the form below and upload all the certificates (as proof they attended) to receive an Academies Scholar Certificate. As a Scholar, students will then have the opportunity to enter into our quarterly writing competition, a 1,000 word essay outlining their future career aspirations, which will help strengthen their writing skills, focus their career aspirations, and also be judged for a prestigious $1,000 scholarship from Harvard Student Agencies.
Qualifications
There are four different concentrations students can take to become Scholars. Listed below are the requirements for each one. If you have fulfilled these requirements, you can use the button below to apply to be a Scholar. We will require you upload proof of completion of all academies, so please wait until after you have taken all the necessary academies to apply. 
If you have yet to fulfill these requirements but would like to, please see the Bundles section below to enroll in the appropriate academies. We welcome you to apply to be a Scholar after you have completed the necessary programs.
Business Concentration

Business Level I Academy
Business Level II Academy



Government Concentration

Politics Academy
Pre-Law Academy



Pre-Med Concentration

Pre-Med Level I Academy

Pre-Med Level II Academy




Coding Concentration

Coding Level I Academy

Coding Level II Academy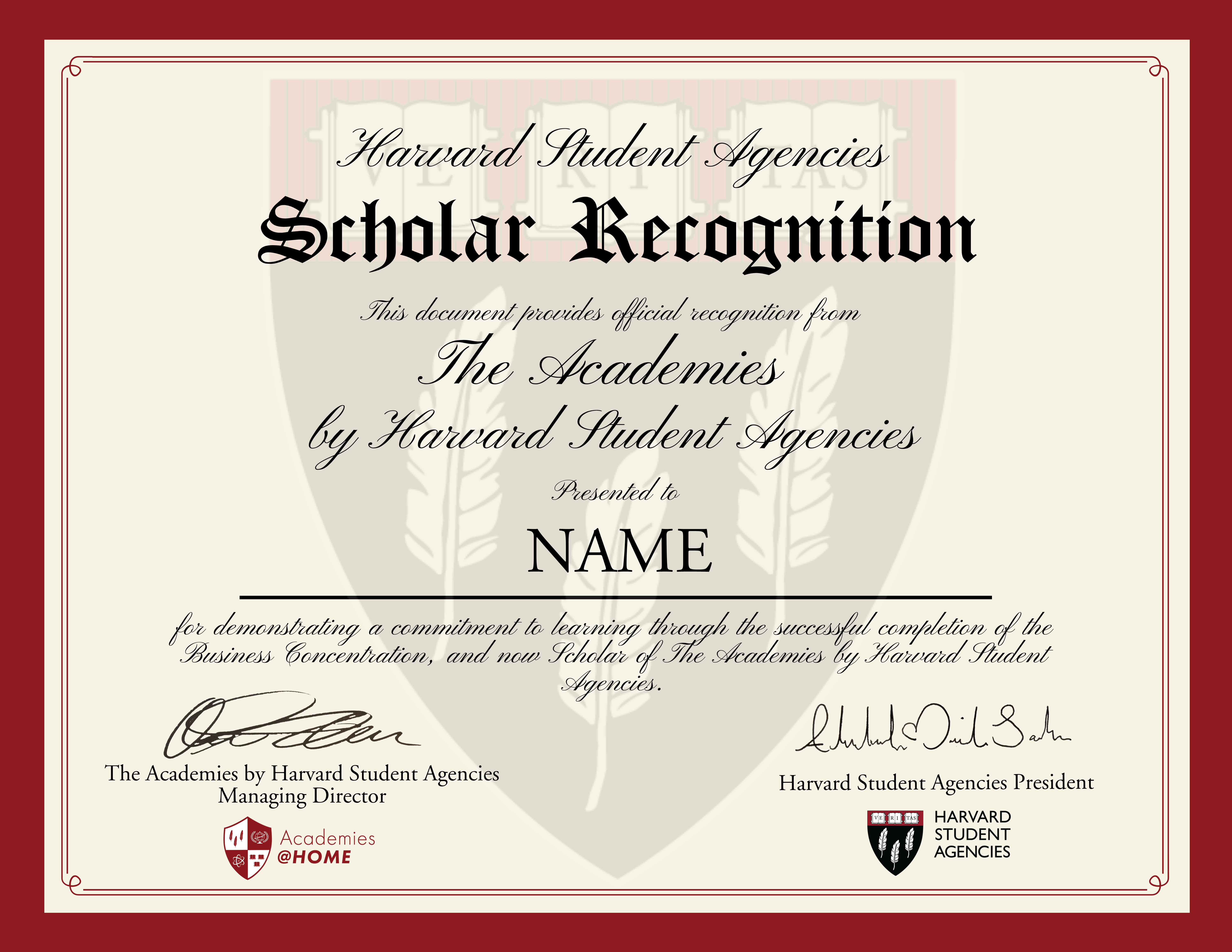 Scholars will be awarded a certificate stating they are a Scholar of The Academies by Harvard Student Agencies.
Bundles
Fulfill the concentration requirements through one of our bundles, now offered at a discounted rate.
Click on the icon for more details.
For Scholars:
Writing Competition Details
All scholars of The Academies by Harvard Student Agencies's Scholars Program are eligible to enter our quarterly Scholars Writing Competition. The winner of the Writing Competition will receive a $1,000 scholarship from Harvard Student Agencies. We crafted the Scholars Program to be a liberal arts approach to The Academies experience, so for the scholarship, we are asking Scholars to submit two essays answering the following prompts: 
1.  Why this concentration? (500 words or less)
2.  You have 200 words; convince us of something. (200 words or less)
For this competition, though, it is encouraged that Scholars include reflections or insights from their experience having taken three academies. All entrants into the competition will be judged by Harvard affiliates and the best essay will be awarded a $1,000 scholarship, plus a feature on our website and social media.

In order to assist our Scholars with their entries, we will be holding two Writing Workshops each quarter. The Writing Workshop is open to Scholars and prospective Scholars. It is a two hour session designed to introduce and guide students as they write their essays. 
The first half of the workshop will cover the processes of brainstorming, prompt selection, drafting, revising, and finishing touches — including various tips and tricks for navigating the entire journey. 
The latter half of the workshop will be an open office hours where students are encouraged to stay and begin work on their essays. 
There will be the opportunity to receive feedback and some one-on-one guidance from a Harvard undergraduate student.
The Writing Workshop will be held at the following dates and times this quarter: 
Stay tuned for the next dates.



All Scholars will receive the details to apply for the writing competition when they receive their official Scholar Certificates. In order to receive your official Scholar certificate, you must complete this form in its entirety. If you did not receive this information, please reach out to joanna.bai@hsa.net.
Deadlines:
The current writing competition is running from November 1, 2021 through September 30, 2022. Scholars are eligible to submit their essays anytime during this window. Writing Competition submissions will be done via the form sent out with your official Scholars Certificate. Winners will be notified the second week of May.
Eaindra Naing
Eaindra is from New York City and is a sophomore at Hunter College High School. She's currently the vice president of communication for her school's knitting and crocheting club, and the publicity secretary for one of her school's dance clubs. She plays for her school's varsity lacrosse team, and is on her school's math team, though she has diverged her stem interests to science, and is now participating in Science Research Seminar. Outside of school, she has been a Girl Scout for 4 years, and teaches crochet classes through Crafts for Charity. Some of her favorite hobbies are watercoloring, crocheting, listening to music, and bullet journaling. At The Academies by Harvard Student Agencies, Eaindra completed the Pre-Med Concentration, and hopes to pursue a career in neuroscience!

Eaindra is the Fall 2021 recipient of the Scholars Program scholarship, winning $1,000 from Harvard Student Agencies.